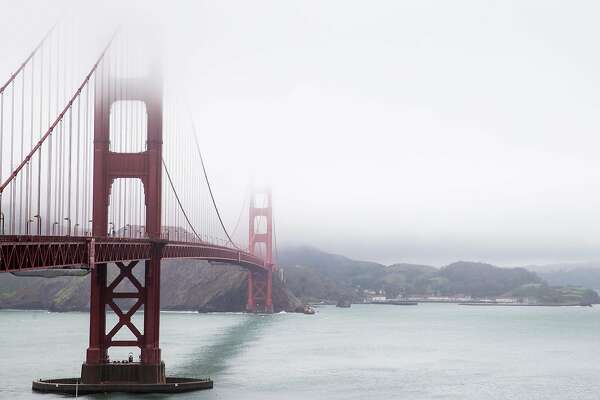 The year is flying away from us and I'm so keen for long sunshiney days.
This isn't my photo of the Golden Gate Bridge, but I did ride over it on a foggy day! So it's how I remember it - great tourist attraction, super crowded.
September was the last month before Australia kicked off daylight savings. That means the mornings were bright but it was still dark when I was getting home. When summer kicks in properly I'll complain about the heat but right now I'm just desperate for some more daylight. Once the sun comes out I'll find the energy to do things and work on projects again.
September Goals Update
Investing Goal: $110,000 in Vanguard
The goal is to have $110,000 in my Vanguard account by the end of the year. I started with $78,424, which means I want to gain just over $31,500. I hoped at the start that $5,500 would come from growth and dividends, and the remaining $25,000 would be from investments. With just three months to go, I'm back in the $100k club and a bit more comfortable than last time.
Full year
Opening Balance: $78,424.57
Deposit: $8,300
Dividends: $5,973.54
Market Gains: $11,000.53
September
Opening Balance: $99,784.11
Deposit: $1,225
Dividends: $358.24
Market Gains: $2,331.30

Current Balance: $103,698.65

It's nice to report this number because as I write this mid-month (I'm behind on the report, again) things are going backwards once more. It's that time of year for yo-yo numbers. Given I'm still six years from the goal retirement date I'm not worried. If prices go down, I buy more units, if they go up, I have more value.
Spending Goal: Under Control!
The goal is simply to have my spending under control and for September... I don't even know. As a whole, it's a good month but I spent almost double my grocery budget! We did have to restock a lot of things when we got back from our holiday, but I really didn't expect this.
Here's what I spent in September, which includes the save-to-spend amounts. Note that the average change covers two months because I lost half my data from August, so I'm comparing September averages to July.
Category

Spent

Budgeted

12 Month Average

Home
$1,400.43
$938.17
$535.83 (

up $174.30

)

Over Budget!

The thing about paying rent fortnightly is that some months you pay rent three times. Plus our power bill for the last quarter (while we had housesitters) was ridiculous.
OG Investment Property
$715.13
$1,190.83
$1,321.67 (

down $44.97

)

Under Budget!

Once again this is only the mortgage. I have already scheduled $1,500 worth of bill payments for October though, so that will be a fun report.
Home turned Investment Property
$635.64
$1,042.33
$1,434.65 (

down $85.84

)

Under Budget!

Again, just the mortgage. The managing agent for this property pay my bills out of the rents, so I won't (often) see big spend months, but I do see reductions in my income.
Personal Bills
$127.26
$127.33
$126.93 (

down $1.97

)

Under Budget!

I still haven't got a new phone, so still no change
Groceries
$383.93
$190
$199.08 (

up $16.35

)

Over Budget!

I am baffled. There are two parts to this - firstly I had to restock a lot of staples after being away for a month. Secondly, I bought a lot of the meat this month, normally Mr. FIRE does that.
Pets
$88.00
$50
$64.38 (

down $0.37

)

Over Budget!

I have finally started building my new chicken coop! The current one is five years old and it was very cheap and very nasty when I first bought it. The new one I'm building myself and will mirror the design I had a my childhood home. It should last a good decade, and hold twice as many hens.
Roller Derby
$65
$175
$252.91 (

down $48.32

)

Under Budget!

I bought some drinks at our end of the year celebration, and I did put aside $50 towards new skates.
Traveling
$0
$122.50
$268.96 (

down $2.09

)

Under Budget!

Nothing! I need to bring the average back down after a pricey trip overseas. In a couple of months, I'll start saving again for the next trip.
Comfort Food
$0
$40
$73.14 (

up $28.46

)

Under Budget!

Nothing! I'm telling myself I'll do more baking so we have snacks around the house and I can keep this cost down.
Other
$52.53
$187.00
$236.78 (

down $10.57

)

Under Budget!

I went on a date at the start of the month! Other than that, it was a really cheap month.
Total
$3,467.92
$4,063.17
$4,514.34 (

up $24.99

)

Under budget

, with 7 out of 10 categories under. How great are cheap months! I thought I'd had a terrible month because the grocery budget was so ridiculous, but it was nice to see that I kept everything else under tabs.
Bonus Goal, if we can: $10,000 worth of an Asian Markets focused ETF
I have $3,700 ready to go and will deposit another $2,400 into this account by the end of the month. If all goes to plan I'll be telling you next month about how I bought $5,000 of either Vanguard FTSE Asia ex Japan Shares Index ETF (VAE), or BetaShares Australian Sustainability Leaders ETF (FAIR).

I am on the fence about investing in the Asian markets at the moment. I still believe that there is a good investment opportunity there and that it's a chunk of the global market I'd like to be invested in, but I have been reading about a lot of ethically questionable events in China and Hong Kong, and I'm questioning the impact of pouring my money into those places. I need to do some digging.